About Baba Banda Singh Bahadur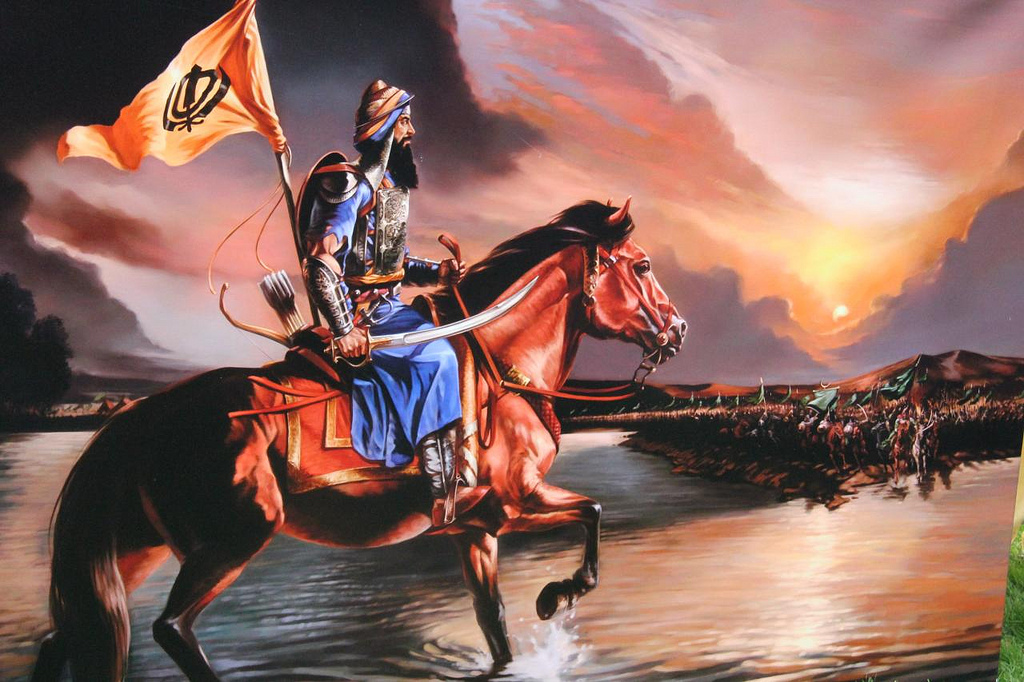 Baba Banda Singh Bahadur was a great Sikh general who established Sikh rule in large part of Punjab. Born to Rajput parents, his childhood name was Lachhman Das. He was very fond of hunting in early life but an incident changed his entire life and he shunned the worldly pleasures to become a bairagi sadhu.
Once he hunted a pregnant deer. The dying animal gave birth to two kids who died in front of his eyes. Lachhman was shocked to the core of his heart and thus became a sadhu. He became a disciple of many but none could provide him peace of mind. Later, he inclined to tantric sadhus and acquired some riddhis and siddhis (miracle powers). Thus, he became quite popular among simpletons,near the area around his ashram on the bank of river Godavari.Baba Banda Singh after baptisation with Guru Gobind Singh.
Though, none benefitted from his powers, he used them to humiliate religious leaders and other saints who ever happened to visit his ashram. Whenever, any such saint visited, he would overturn the cot using his powers.
Guru Gobind Singh after leaving Punjab travelled towards South India along with some Sikhs, visited Lachhman Das's ashram and sat on his cot in his absence.
Accepting defeat, Lachhman Das Bairagi fell at the feet of Guru Gobind Singh and sought forgiveness and said, "O, Guru Ji, I am your Banda (Slave). Show me the right path."
Guru Gobind Singh taught him the basic principles of Sikhsim and baptised him. Lachhman was given the name 'Banda Singh'. He transformed from a proud bairagi to a humble and brave Sikh of Guru.
Guru sent Banda Singh on a mission to Punjab to punish the guilty and cruel rulers of the time. He was also provided with five brave Sikhs as advisors and necessary weapons.
Banda Singh was soon joined by thousands of Sikhs in his crusade against the wicked rulers. Within a short span of time, Sikhs under Banda Singh's leadership put an end to life of many tyrant rulers, including Nawab Wazir Khan, the main culprit behind death of younger sons of Guru Gobind Singh.
Banda Singh captured large part of Punjab and established Sikh rule there. He also minted coins in the name of Guru Nanak Dev and Guru Gobind Singh. In the meantime, Faruksiyar became Delhi's emperor. Angered by defeat at the hands of Banda Singh and Sikh forces, he sent a large force from Delhi and mobilised from elsewhere in Punjab to defeat and capture Banda Singh.
Sikhs were surrounded by large number of Mughal forces in the fortress of Gurdas Nagal. They fought valiantly under Banda Singh's command. They fought valiantly but due to depleting ration, they ultimately became too weak to fight with the enemies.
baba banda singh bahadur tortured by mughalsUltimately, the brave general Banda Singh Bahadur was arrested along with seven hundred Sikh soldiers and brought to Delhi, after eight months. Inside the fortress, Sikhs survived on leaves, trees, and even bark of trees.
In Delhi, they were insulted and paraded in Delhi bazars. Sikhs were offered amnesty by Mughals in lieu of accepting Islam. Not even a single Sikh betrayed the spirit of Sikhism and embraced Islam. They were tortured and killed publicly
After an ordeal of about three months, Baba Banda Singh was killed in one of the most cruel manners mentioned in the history of mankind on June 9,1716. His four year old son Ajai Singh was put to death in front of him. His liver was thrusted into Banda Singh's mouth.But Baba remained as tranquil as ever, and even this act failed to break his resolve and determination. Finally, Banda was put to death mercilessely by pincing the flesh from his body, bit by bit, with means of hot pincers. His eyes were pulled out and his feet were chopped off.
With the martyrdom of Banda, Khalsa leadership was taken up by new warriors like Baba Deep Singh, Nawab Kapur Singh, Chhajja Singh, Bhuma Singh, Hari Singh Dhillon, Jassa Singh Ramgarhia, Jassa Singh Ahluwalia, Budh Singh, Naudh Singh and Charhat Singh Sukerchakia and others. Within ninety years, Mahraja Ranjit Singh had established Sikh kingdom.
No doubt, Banda Singh was immortalised forever in the history of Sikhs, he is also known and much celebrated in Bengal after Nobel laureate Rabindranath Tagore wrote a poem titled Bandi Bir.Here are portions of the first and last parts of this poem (in Bengali, written phonetically here) followed by translation:Pancha nadir tireyBeni pakaiya shireyDekhite dekhite Gurur mantreJagiya uthhechhe SikhNirmam, nirbhik.Hajar konthe Gurujir JoyDhoniya tulechhey dikNutan jagiya SikhNutan ushaar Surjer paaneChahilo nirnimikh........Sabha holo nistabdhaBanda'r deho chhinrilo ghaatakShanraashi koriya dagdhaSthir hoye Bir moriloNa kori ekti katar shabda.Darshak-jan mudilo nayanSabha holo nistabdha.gurdwara shahidi asthan baba banda bahadur, mehrauli
Here is an approximate translation:The Mughals and Sikhs together kicked upthe dust of Delhi thoroughfares;Who will offer his life first?There was a rush to settle this;In the morning hundreds of heroesoffered heads to the executioner,calling "Glory be to Guruji";
The Kazi put into Banda's lap one of his sons;Said... must kill him with own hands;Without hesitation, saying nothing,slowly Banda pulled the child on his breast;Then slowly drawing the knife from the belt, looking at the boy's face,whispered"Glory be to Guruji", in the boy's ears.The young face beamed;The court room shook as the boy sang,"Glory be to Guruji;"Banda then threw the left arm around his neckand with the right plunged the knife into the boy's breast;The boy dropped on the ground,smiling, saying "Glory be to Guruji".The court was dead silent.The executioner tore apart Banda's bodywith a pair of red-hot tongs;Standing still the hero died,not uttering a sound of agony;The audience closed their eyes;The court was dead silent.